Copenhagen guitar school
Playing a musical instrument becomes a lifelong passion for many - and the guitar can be your faithful companion throughout your life. Guitar lessons can stimulate children's curiosity, teach them diligence and perseverance, and strengthen them in social contexts. The best way to get your child into the world of music is with a personal and experienced guitar teacher who adapts the teaching to the individual.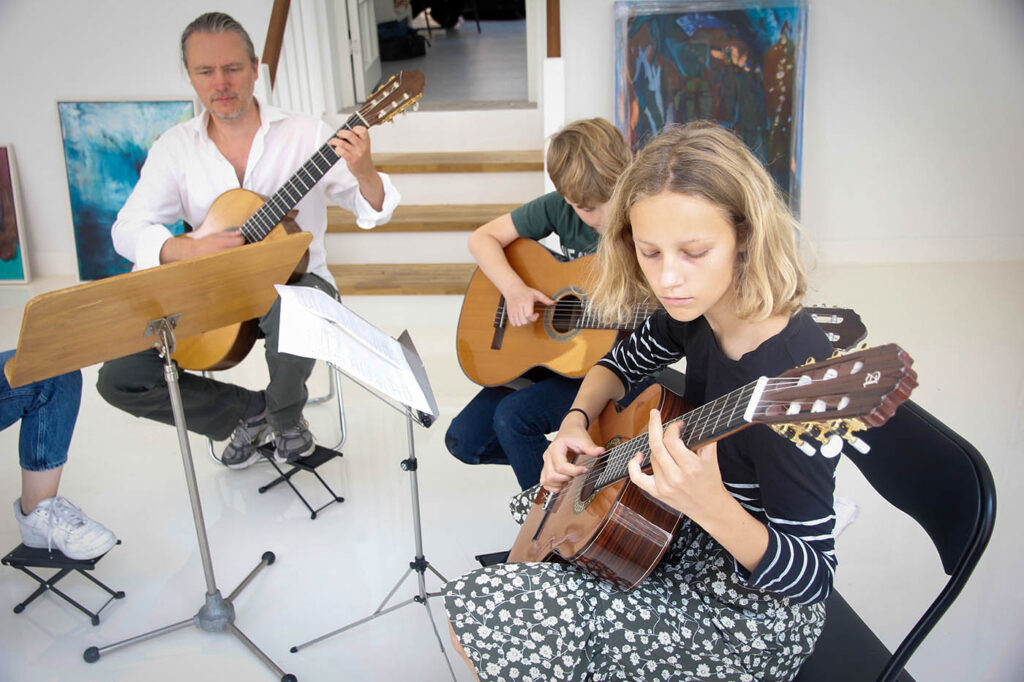 Here is some information about taking guitar lessons at the Copenhagen Guitar School
Where and when does guitar teaching take place?
On weekdays between 9 am to 9 pm in beautiful, bright rooms at Østrigsgade 47, 2300 Copenhagen S - close to Lergravsparken Metro.
How often would your child play?
Most students take a guitar lesson once a week, which is the optimal frequency to experience development in guitar playing.
Should you buy your child their own guitar?
The first few times they can borrow a guitar, but it is a good idea to buy a guitar that suits them. Talk to your child's guitar teacher and get advice on buying the right guitar. We play Spanish / classical guitar with nylon strings.
How much does it cost?
The price for a 45-minute lesson is 450 kroner. It requires a professional effort to teach a child and have intense contact with a student for 45 minutes.
Do you have to pay for a longer course?
No, solo tuition is paid on a lesson-by-lesson-basis, and one is not bound to a specific period.
How does the teaching take place?
All teaching is solo teaching which gives the student the best opportunities to unfold and the teacher to focus on the individual student.
All students are offered one hour of group lessons once a week which is included in the price of taking solo lessons.
Who are the teachers?
The teachers are Mikkel Andersen, solo guitarist and founder of the guitar school, and the two young and talented guitarists Dávur Birgisson and Jonas Egholm. They all offer teaching at a high professional level.
What is the teaching style?
The teachers work according to the role-playing mindset. They emphasize their points by playing for the students and convey their own love of guitar playing. Encouragement and praise play a central role in guitar teaching. The teachers build a personal relationship with the students and are passionate about their job.
What if you must cancel?
If you cancel before 12 am on the day before your child's tuition, you are not liable for payment because then we can often manage to find another student for the lesson. In case of cancellation after 12 am the day before, you pay for the lesson.
Regarding Covid-19: Our cancellation rules follow the Danish Health and Medicines Authority's guidelines. If your child is in isolation, they must not attend classes at the guitar school, and you must remember to cancel no later than 12 am the day before to avoid being charged.
How do I get my child started playing the guitar?